Premium Financing
Date:
Tuesday, October 11, 2022
Speaker:
Kyle Jones and Morgan Scott
ABOUT THE SPEAKERS
KYLE JONES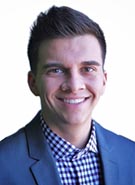 Kyle Jones is a Case Designer on the Case Design and Management team at M Financial Group, where he over sees the intake of requests from Member Firms and assists with Life Insurance insights to aid business succession planning, life insurance retirement planning, estate planning, and premium finance. Kyle started with M in 2019 as a Product Analyst and since 2020 has moved onto the Sales Support Team, working directly with M Financials Member Firms on their day-to-day business.

Kyle earned his Bachelor of Science from Oregon State University in 2018.
MORGAN SCOTT
Morgan Scott is Head of Advanced Sales and Design at M Financial Group where he manages the advanced sales and case design units, and assists in the marketing and positioning of life, annuity, and disability insurance products for use in business planning, estate planning, charitable planning, and other advanced applications. Morgan is seasoned advanced markets attorney, manager, and dynamic public speaker with diverse experience in advanced sales, team building, departmental planning, and the marketing and distribution of life, annuity, and disability insurance products across the independent, brokerage, and institutional channels.

Prior to joining M Financial, Morgan was VP of Advanced Markets and Field Development at Columbus Life Insurance Company where he managed the sales desk, advanced markets, and training departments.
Morgan received his Juris Doctorate from The University of Connecticut School of Law, and his BA in history from Trinity College in Hartford, CT.
Cost for this meeting: FREE
Let us know if you are attending or not. If you can't make it, click Register and Can not Attend. We need to be sure we have adequate connections. Registration will be open until TUESDAY, October 11 a.m., but your commitment should be received by THURSDAY, October 6 so we can send you the Zoom link in a timely manner.
Visit our Web Site: http://www.estateplan-hc.org
Membership Application or Change of Address: http://www.estateplan-hc.org/members/application
NAEPC Web site: http://www.naepc.org